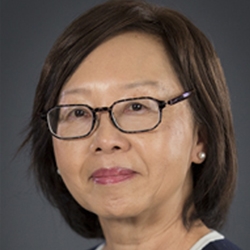 Summer Hsia
( She/Her/Hers )
Associate Professor
Special Education (SPED)
Phone: (415) 338-2502
Email: summerh@sfsu.edu
Dr. Summer Tsai-hsing Hsia is an Associate Professor and coordinates the Intern Program and the Early Childhood Special Education credential and master's degree programs in the Department of Special Education. Her primary responsibilities include teaching courses in the area of early childhood special education, supervising student teachers, chairing the master's degree students' projects, and mentoring students in the Joint Doctoral Program.
Educational Background
B.A. Soochow University (1978)
M.A. Indiana University (1982)
Ph.D. University of Oregon (1993)
Research Interests and Current Funded Project
Dr. Hsia's research interests focus on curriculum-based assessments, activity-based intervention, and issues in cultural diversity and families. She has developed international interaction and collaboration with a number of universities in Taiwan, which has provided formal opportunities to cooperate in the areas of education and research through a program of academic and cultural exchange.
In collaboration with Dr. Amanda Lueck in the Visually Impaired Program, Dr. Hsia was awarded a personnel preparation grant from the Department of Education (OSEP) in 2009 to prepare professionals to work with young children, birth to 5, with visual impairments and their families.
Selected Publications
Friesen, A., &, Hsia, S. (2017). Early intervention. In E.L. Meyen & Y.N. Bui, Exceptional children in today's schools. What teachers need to know (6th ed.).
Hsia, T. H., Wu, Y. (submitted for review) Transitioning from kindergarten to first grade: Experiences of young children with special needs.
Hsia, T. H. (submitted for review) Providing culturally responsive early intervention services to multicultural families.
Hsia, T. H. (submitted for review) Issues in delivering family-guided early intervention services to culturallv diverse families.
Hsia, T. H., McCabe, H., & Li, B.J. (2003) People's Republic of China: Cultural issues and service provision in rural area. In S. L. Odom, M. J. Hanson, J. A. Blackman, & S. Kaul (Eds.). Early intervention: Practices from around the world. Baltimore: Paul H. Brookes Publishing Co, 27-47.
Karres, D., & Hsia, T. H. (2003). Shi young ri ji dui haw lai jiao dao long he ting zhang xue sheng (Dialogue journal writing with learners who are deaf and hard of hearing: Implications for teacher education). Zhong Guo Te Shu Jiao Yu (Special Education in China), Spring 2003.