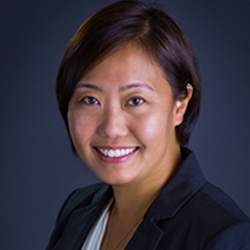 Yue-Ting Siu
( She/Her/Hers )
Assistant Professor
Special Education (SPED)
Phone: (415) 338-1080
Email: ysiu@sfsu.edu
Twitter: @TVI_ting
Dr. Ting is a Teacher of Students with Visual Impairments (TVI) and assistant professor in the Program for Visual Impairments in the Department of Special Education. Her primary teaching responsibilities include method courses in visual impairment (VI) such as Medical, Educational, and Rehabilitative Implications of Visual Impairment; Special Populations; Issues in VI; Assessment Strategies and coordination of student teachers and related seminar program. Ting's research prioritizes connections between research and practice. Her areas of interest and work span the follow areas: Role of communities of practice to support itinerant teachers' professional development; Development of educational practices and technology that support multimedia accessibility; Teacher adoption of technology including professional use, assessment, and implementation with students.
Educational Background
Ph.D, University of California at Berkeley & San Francisco State University, 2015
M.A., University of Arizona, 2006
B.S., Boston University, 2002
Recent Publications
Morash, V. S., Siu, Y. T. (2016). Social predictors of assistive technology proficiency among Teachers of Students with Visual Impairments. ACM Transactions on Accessible Computing (TACCESS), 9(4).
Siu, Y. (2016). Designing for all learners. Educational Designer, 3(9).
Siu, Y. (2016). A Virtual Water Cooler: The Ecology of an Online Community of Practice to Support Teachers' Informal Learning (doctoral dissertation). University of California, Berkeley.
Morash, V. S., Siu, Y-T., Miele, J. A., Hasty, L., & Landau, S. (2015). Guiding novice web workers in making image descriptions using templates. ACM Transactions on Accessible Computing (TACCESS), 7(4), 12.
D'Andrea, F. M., Siu, Y. (2015). Students with visual impairments: Considerations and effective practices for technology use. In D. Edyburn (Ed.), Advances in Special Education Technology, Vol. 1, Efficacy of Assistive Technology Interventions (pp. 111-138). United Kingdom: Emerald.
Siu, Y., Morash, V. (2014). Teachers of students with visual impairments and their use of assistive technology: Measuring teachers' proficiency and their identification with a Community of Practice. Journal of Visual Impairment and Blindness, 108, 384-398
Siu, Y. (2013). This mattered to me. Journal of Visual Impairment & Blindness. 107(3), 106-108.
Recent Grants/Awards
Consultant (2016-2017)
Disability Communications Fund
Awardee (2016)
CIRCL Cyberlearning Buddy
Awardee (2015)
TEACH California Distinguished Teacher
Awardee (2014)
American Printing House for the Blind Scholar
Fellow (2011-2015)
National Leadership Consortium in Sensory Disabilities (NLCSD)
Awardee (2006)
Presidential Volunteer Service Award
Collaborative Partners
Smith-Kettlewell Eye Research Institute
San Francisco Lighthouse for the Blind
Touch Graphics, Inc.
Benetech (DIAGRAM Center, Bookshare)
UC Berkeley
Perkins School for the Blind
Bay Area public school districts
NYC Department of Education