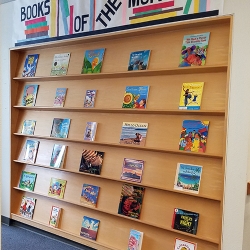 The Cahill Lab houses several book collections to be used as reference, research, and resources for students in the Graduate College of Education. These collections are hard to find elsewhere on campus, making the Cahill Lab an important center for educational materials. Along with a vast collection of textbooks, research, literature, and guidebooks, we provide an assortment of other materials that will help student teachers develop their individual teaching practices. We have an arts and crafts center, where anyone can use our supplies to create and practice art activities or borrow a set of classroom scissors, crayons, or glue. We also have animal hand puppets; mathematics manipulative kits; phonics, vocabulary, and spelling flashcards; and classroom Big-Books for children.
Cahill Learning Resources and Media Lab Collections
Children and Teen Literature
A diverse mix of literature in fiction and nonfiction: picture books, fairy tales, biographies, poetry, diaries, historical accounts, and nature explorations abound. We have thousands of grade-leveled readers paired with the Reading, Literacy, and Language Arts Curriculum. We also house children's Big Books for use in classroom reading. You will find a lot of excellent multicultural fiction and nonfiction, featuring various cultures and backgrounds. Many of these books are bilingual, paralleling English with other languages such as Chinese, Spanish, Vietnamese, Tagalog, and more.
Kindergarten-Twelfth Grade Curriculum
Teacher and student edition textbooks, practice books, and additional materials including: DVDs, CDs, transparencies, flash cards, manipulatives, posters, charts, and more. Our curriculum collection is matched with the curriculum adoption from the following local school districts: San Francisco Unified, Oakland Unified, South San Francisco Unified, San Mateo-Foster City, Brisbane, Jefferson Elementary, and Bayshore Elementary. The following PDF's include a comprehensive list of the curriculum titles and series that the Cahill Lab has to offer.
Education Theory
Our theory collection is a wonderful examination of educational thoughts and practices, and their histories. This section is a hidden gem among our collections, covering diverse topics concerning education: assessment, child development, adult education, multicultural classrooms, reading and literacy, social justice and equity, special education, and mathematics. The Lab's theory books are a great start for student teachers who are interested in researching the philosophies of teaching, learning, classroom organization, educational policy, and so much more.
Teacher Resources and Activities
This section is rich with activity books for subject-specific lesson planning. Student teachers will encounter guided activities for mathematics, art, drama; encyclopedias for Japanese-American or African-American histories; how to aid children's social development; and how to integrate culturally rich lesson plans.
GCOE Field Studies
We house up to five years of field studies written by the Graduate College of Education's students. They are shelved according to their department: ELSIT (formerly DAIS and ITEC), EED, SED, and SPED. Students can browse the field studies collection in our database, and read samples of field study abstracts. These materials are for reference only, and cannot be removed from the Lab. However, students are free to scan field study pages and create PDF versions at our computer stations for personal use.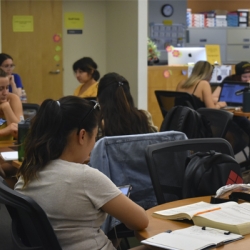 How to Borrow Books
Before you can check out any materials, you must bring your San Francisco State University ID, and present it to a Cahill staff member at the front counter to complete your registration. When you have selected your books, bring them to the front counter and staff member will check them out for you. Some items are for in-lab reference only, and may not be borrowed from the Lab, so please ask for assistance if you are unsure
Check-outs are for one week only, and must be either returned or renewed.
To renew your materials, call the Cahill Lab at 415-338-3423.
Returning items may be given to a staff member at the front counter, or through the Book Depository located in the hallway beside BH 319.
In the event of overdue items, the Cahill Lab will contact you through email first.
If overdue items are not returned, the Cahill Lab will notify your department advisors and instructors.
Faculty
Faculty are more than welcome to schedule time and space in the Cahill Lab for their student teachers to explore our collections. These are great events for student teachers to critically examine the curriculum and resources here, and utilize what they find in their developing units and lesson plans.
For PDF files, you'll need Adobe Acrobat 5.0 or above to view it. If you need Adobe Acrobat Reader it's available free from Adobe.