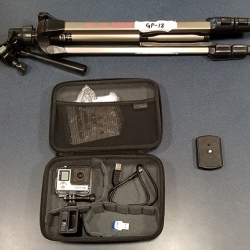 The Cahill Learning Resources and Media Lab has 24 Mac computer stations available for Credential Students and general student use. Each computer is equipped with Mac-based iMovie editing programs. The Lab is staffed with knowledgeable media production experts, who can aid you in editing your video.
Video Production Equipment
All media equipment is reserved through the Cahill Learning Resources and Media Lab. With instructor permission, students can check out the following video equipment for class projects. The lab provides a prepared camera kit with basic equipment for credential students, but additional equipment may be checked out upon request. All equipment checkout is limited to one week only.
Please note some items are for in-lab use only.
AVAILABLE EQUIPMENT:
GoPro digital cameras
Tripods
Wireless Lavalier Microphones
Please note that Credential students have priority in checking out Camera Kits and video equipment.
Camera kit checkout forms are available at the Cahill Lab and in the links below.
Please have a faculty member sign your camera kit checkout form before coming to the lab.
Camera Kit Checkout Policy:
Camera kits may be checked out for ONE WEEK only
Camera kit checkout forms must be signed by an authorized faculty member prior to checkout
Cahill Lab Policies and Procedures
Credential students and all SF State students are welcomed to use the Cahill Lab. Occasionally, classes or planned group sessions may be conducted at the Cahill Lab. We may ask patrons to move to another area. EdTPA and Credential student activities have priority in the Cahill Lab.
Forms, Guides and Instructions
We understand that meeting EdTPA videotaping requirements can be a stressful and difficult process for students who may not have experience handling recording equipment or using editing software. Our experienced staff at the lab will try to assist credential students to the best our ability. To further aid the student, we have provided a list of guides and instructions that aim to ease the process, even for total beginners. All the instructions below are only intended to function with computers and hardware equipped with the Apple MacOS, and NOT Microsoft Windows. Click on the appropriate link below to download the document.
These guides are not a substitute for visiting the Cahill Lab in person, using Cahill Lab-approved equipment, and consulting a lab representative for assistance. These guides are for your use to help you with your EdTPA videotaping project. If at any time you need assistance, please feel free to contact the Cahill Media Lab.
Camera Kit Checkout Forms (faculty must sign form):
Disclaimer:
The lab has all the equipment and software you will need to videotape and edit your EdTPA teaching event.
Should you choose to use your own equipment (camera, iPhone, Android, tablet, etc.), please be aware that there may be limitations with your equipment and that there may be software or hardware incompatibilities with our lab equipment. We will try our best to assist you with whatever equipment you use. However, we cannot guarantee success in retrieving, converting, downloading, or editing video content from media and equipment not checked out from the Cahill Lab.
For PDF files, you'll need Adobe Acrobat 5.0 or above to view it. If you need Adobe Acrobat Reader it's available free from Adobe.