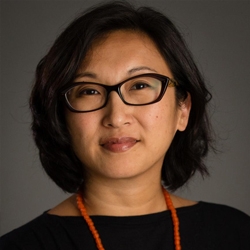 Betty Yu
( She/Her/Hers )
Professor
Speech, Language and Hearing Sciences
Phone: (415) 338-3429
Email: bettyyu@sfsu.edu
Dr. Betty Yu is a Professor in the Department of Speech, Language, and Hearing Sciences. Her research and clinical interests are in how the development of communicative, linguistic and sociocultural competencies among racialized bilingual/multilingual children interfaces with institutional practices/policies, family socialization, and dominant ideologies about race/language/disability. She has investigated the communication and socialization experiences of recently diagnosed autistic children within bi/multi/translingual communities as they and their families interact with disability services, school systems, and healthcare. Another strand of her work focuses on issues of equity in the field of Speech, Language and Hearing Sciences (SLHS), particularly the systemic influences of raciolinguistic discrimination, ableism and pathologization. She is the co-director of Project ALLIES, a project funded by the U.S. Department of Education to prepare speech-language therapists and special educators to work in collaboration to support autistic students through advocacy, community/teacher/peer education, and opportunities for friendship and play. She is a advisory board member to the Asian Pacific Islander Speech-Langugage-Hearing Caucus. 
Educational Background
University of California at Berkeley/San Francisco State University, 2009, Ph.D. Special Education
New York University, 1999, M.A. Speech-Language Pathology
University of California at Berkeley, 1996, B.A. Linguistics
Certification and Licenses
Certificate of Clinical Competence in Speech-Language Pathology, American Speech-Language-Hearing Association, 1999-present
California State License in Speech and Language Pathology, Speech Language and Audiology Licensing Board, 1999-present
Hanen certified speech-language pathologist for "It Takes Two to Talk", "More Than Words" and "Talkability"
Recent Publications
Yu, B. & Luo, F. (In Press). Augmentative and alternative communication. In G. Hao & Z. Shao (Eds.), Autism spectrum disorders: Assessment and intervention. Chongqing, China: Chongqing Publishing Group. (Will be published in Chinese)
Kashinath, S., & Yu, B. (In Press). Embedding intervention strategies within everyday family routines. In M. Siller & L. J. Morgan (Eds.), Handbook of Family-Centered Practice for Very Young Children with Autism. New York: Springer.
Epstein, L., Solomon-Rice, P., & Yu, B. (2018). Speech/Language Impairments and Communication Disorders. In Y. Bui & E. L. Meyen (Eds.), Exceptional children in today's schools: What teachers need to know.
Yu, B. (2016). Bilingualism as Conceptualized and Bilingualism as Lived: A Critical Examination of the Monolingual Socialization of a Child with Autism in a Bilingual Family. Journal of Autism and Developmental Disorders. doi:10.1007/s10803-015-2625-0.
Yu, B. (2016). Code-switching as a communicative resource within routine, bilingual family interactions for a child on the autism spectrum. Perspectives of the ASHA Special Interest Groups, 1(14), 17-28.
Soto, G., & Yu, B. (2014). Considerations for the provision of services to bilingual children who use augmentative and alternative communication. Augmentative and Alternative Communication, 30(1), 83-92. doi:10.3109/07434618.2013.878751
Yu, B. (2013). Issues in bilingualism and heritage language maintenance: Perspectives of minority-language mothers of children with autism spectrum disorders. American Journal of Speech-Language Pathology, 22(1), 10-24.
Media
Awards
2013 Distinguished Achievement Award, California Speech-Language-Hearing Association
2009 SFSU Joint Doctoral Program in Special Education Distinguished Doctoral Student
2008 Spencer Foundation Mentored Research Fellowship for Doctoral Research