About the Graduate College of Education
The Graduate College of Education (GCOE) is home to a dedicated group of faculty, staff, and students whose focus is on serving the students and families of the Bay Area, and whose commitments are to social justice and change for good. Through our undergraduate, credential, and graduate programs, we prepare the professionals who consistently make a positive difference in education and in students' lives and whose impact is meaningful and lasting.
We are a college with deep roots. The oldest college on the campus, the GCOE was founded in 1899 as the San Francisco State Normal School, and became San Francisco State Teachers College in 1921. Those deep roots ground us in long-standing relationships with districts, clinics, agencies, and schools where our candidates connect with a diverse population of students and families, and where our alumni have long careers.
We are also a college committed to examining our long-standing practices, to changing and dismantling what is unjust and racist, and to building equitable and just systems that welcome and advance all students.
Statement of Purpose
The GCOE develops transformative and visionary educators, clinicians, and leaders for social justice, to effect change for good across the Bay Area and beyond, and to create an engaged, and productive democracy. Together we do the work necessary to understand and welcome all; prepare equity-focused, caring, and highly skilled professionals; to identify and dismantle racist, ableist, and oppressive systems; and to build an equitable and accessible present and future.
Statement of Solidarity with Black Lives Matter
The leadership of the Graduate College of Education at San Francisco State University stands in solidarity with all of our Black colleagues, Black students, and the Black Lives Matter movement to renew our longstanding commitment to social justice and to identify and eliminate racism and anti-Blackness in ourselves, our relationships, our courses, our systems, and in the community through the educators and clinicians we prepare. We own this responsibility as educators.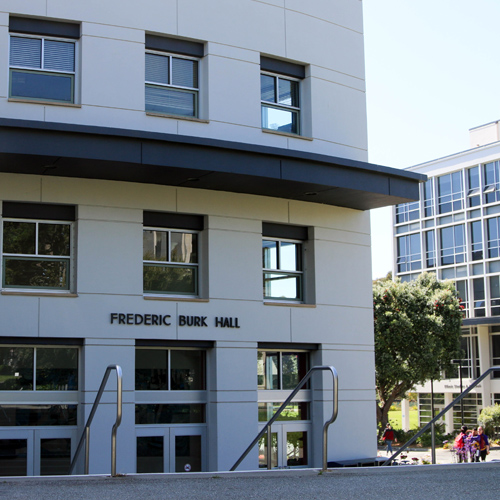 Partnerships with more than 40 local school districts, clinics, and healthcare settings
Scholarships exceeding $150,000 to support students in every program
Over $4 million in faculty grants
Teaching and learning in San Francisco and the Bay Area, an urban setting for our focus on social justice, equity, and access to excellent education for all
11 credential programs, and 5 affiliated credential programs in other colleges, providing the whole scope of preparation for the region's educators
Six master's degree programs for educators to deepen their knowledge and strengthen their practice
Two doctoral programs – an EdD in Educational Leadership, and a Joint Doctoral Program in Special Education with UC Berkeley – that prepare university professors and systems leaders
Over 400 graduates every year, employed across the Bay Area as teachers, clinicians, specialists, administrators, and leaders
Accredited by the Commission on Teacher Credentialing
NOYCE-Stajes Scholarships for Math and Science candidates, through the Center for Science and Math Education (CSME)
Step to College Program for high schoolers seeking early experience in college
Home to California's Deaf-Blind Services
1855- John Swett offers first teacher training classes to San Francisco
1857- San Francisco Board of Education establishes the San Francisco Weekly Normal School (a training school for elementary teachers.)
1867- Girls' High and Normal School, an ancestor of the present San Francisco State University, is established, with Ellis Holmes as principal.
1895- Normal class is separated from high school and renamed "San Francisco Normal School", with Laura Fowler as principal.
1898- San Francisco Board of Education votes to close Normal School.
1899- A State Normal School opens again in San Francisco, one of the first in the country to require a high school diploma. Dr. Frederic Lister Burk is Founder and first President of the school, which is located on Powell Street between Clay and Sacramento.
1921- San Francisco State Normal School becomes San Francisco State Teachers' College.
1935- Name changed to San Francisco State College; along with other State Colleges it becomes a liberal arts school.
1948- The Special Education Department is founded at San Francisco  State, under the leadership of Leo Cain.
1960- Legislation is introduced to enable the San Francisco State College to offer a joint Ph.D. Program with the University of California at Berkeley in Special Education.
1967 - San Francisco State College begins a Joint Doctoral program in Special Education with the University of California, Berkeley.
1993- The Education Building is renamed Burk Hall in honor of Dr. Frederic Lister Burk.
1996- School of Education becomes College of Education.
1997- The new Burk Hall addition is completed.
1998- The San Francisco State University College of Education is recognized statewide as one of the leading professional schools for preparing educators at the credential, Masters, and Doctorate levels for growing and diverse educational requirements.
2007- The SF State EdD program in Educational Leadership (K-12 and Community College) is established. The first graduates complete their program in 2010.
2011- The College of Education is renamed as the Graduate College of Education.