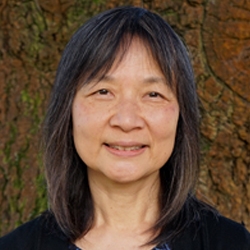 Christy Lao
( She/Her/Hers )
Associate Professor
Elementary Education (EED)
Phone: (415) 338-7288
Email: clao@sfsu.edu
Dr. Christy Lao is currently an Associate Professor of Education, former founding Director of the Confucius Institute (CI) at San Francisco State University (SFSU), Principal Investigator and Director of four major federal projects_ (1) Bay Area National Professional Development Project for English Language Learner (USED), (2) Project Chili: Chinese Literacy Instructional Materials & Curriculum Development (USED), (3) STARTALK Teacher Training Program, and (4) STARTALK Student Program at SFSU (NSA).
Dr. Lao received her Ph.D. from University of Southern California, in Second Language Acquisition.  As the founding director of CI at SFSU, Dr. Lao initiated, negotiated and established the first CI on the West Coast in 2005.  Dr. Lao received $3 million in federal funding to conduct research, develop English and Chinese bilingual curriculum and materials for elementary school, and provide professional development to Chinese bilingual teachers in the area of English and Chinese as a second language. Dr. Christy Lao also teaches in the Chinese Bilingual Teaching Credential Program at the Graduate School of Education at SFSU with a focus on Chinese language pedagogy and Chinese literacy development.
Dr. Lao has published widely in the field of second language acquisition focusing on English and Chinese bilingual learners.  Her most recent book is Comprehensible and Compelling: The Causes and Effects of Free Voluntary Reading (with Stephen Krashen and Syying Lee).
Previously, she was a faculty member at Teachers College, Columbia University and at Hong Kong Baptist University. For the past 20 years, she has worked with Chinese Bilingual schools and teachers in the San Francisco Bay Area, New York, Hong Kong and China.
Dr. Lao's recent international professional collaborations have included projects with Centre for Advancement of Chinese Language Education and Research, The University of Hong Kong; Centre for Enhancing English Learning and Teaching, The Chinese University of Hong Kong; and Graduate Institute of Children's Literature, National Taitung University, Taiwan.