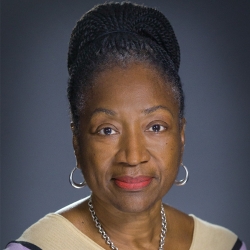 Phone: (415) 338-2614
Email: dflowers@sfsu.edu
Dr. Doris Flowers is a Professor in the College of Education at San Francisco State University where she served as the Co-coordinator of the Center for Adult Education as well as the Equity and Social Justice Program. Dr. Flowers is one of the founding faculty of the Equity and Social Justice program and teaches in both Equity and Social Justice and Adult Education. Originally from Washington, DC, Dr. Flowers has served as faculty and research associate in the Communications Department at Purdue University and has taught at the University of Virginia, Howard University and the University of the District of Columbia.
Dr. Doris Flowers previously served as Interim Associate Dean for the Graduate College of Education and during 2021-2023. Prior to this, she served as Chair for the Department of Equity, Leadership Studies and Instructional Technologies (ELSIT) from 2015-2021. She also served as Interim Chair for Africana Studies during 2019-2020.
Dr. Flowers received her bachelor's and master's degrees from the University of the District of Columbia in Speech and Language Pathology. Her Ph.D. was received from the University of Virginia in education with a major in language and communication and a minor in neuroscience.  She is a speech-language pathologist by profession and has worked in various educational and clinical settings with adults and children.  Over the past 20 years, Dr. Flowers has evolved expanding the scope of her research to include the intersectionality of language and race in our society and how it is used to marginalize and exclude. She has conducted research focusing on an African Centered perspective in language and literacy in adult learning, language difference, racism and gender.  Her areas of teachings have included race, class, language, gender, education policy, disability, neuroscience, linguistics and African Centered perspectives in teaching and learning.
Dr. Flowers' research over the past 25 years has focused on examining the impact of race, class, gender and language issues in adult educational settings as well as other work environments. Dr. Flowers has written articles for journals and book chapters on language, race and adult learning. She and colleagues served as hosts for the 2003 Adult Education Research Conference held at San Francisco State University. She currently serves on the board of the American Association for Adult and Continuing Education and is also commission director for the Community and Non-Formal Education. She serves on Steering Committee for the Adult Education Research Conference (2019-present) and has served in the past as member and chair of the 2008-2009 Adult Education Research Conference (AERC) Steering Committee. Over the past 12 years, Dr. Flowers has served as member, editor and chair for the AERC African Diaspora Preconference and the past 8 years has coordinated the conference planning. She co-founded "Soul of San Francisco State" which was a series of publicized events developed to celebrate the Black experience in all realms. It was developed in response to the racial unrest brought on by the killing of Black men and women. She created Building Common Ground which is a student centered and facilitated event to critically She has made many presentations at international, national, state, and local conferences and published numerous articles to contribute to the literature in the field of Adult Education as well Equity and Social Justice.