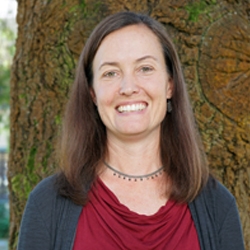 Stephanie Sisk-Hilton
( She/Her/Hers )
Professor
Elementary Education (EED)
Phone: (415) 338-1747
Email: stephsh@sfsu.edu
Stephanie Sisk-Hilton is a Professor in the Department of Elementary Education. Her teaching and research focus on the intersections of children's science learning, cognition and development, and collaborative teacher learning. Her current research explores how young children come to understand and use challenging science concepts when they are engaged in pedagogically ambitious approaches to teaching and learning. She also investigates how teachers develop and share science teaching knowledge through collaborative professional development. Dr. Sisk-Hilton leads professional learning experiences for early childhood and elementary school teachers throughout the Bay Area with the goal of developing classroom environments where every child has rich opportunities to grow in their science knowledge and identity.
Dr. Sisk-Hilton currently coordinates the One-year Multiple Subject Teaching Credential Program as well as the MA in Elementary Education for recent credential graduates. Her departmental work focuses on building teaching and learning partnerships between the teacher education program and the elementary schools that mentor future teachers to work with diverse learners.
Dr. Sisk-Hilton received certification through the National Board for Professional Teaching Standards and has taught elementary and middle school in Prince George's County, MD, Atlanta, GA, Brooklyn, NY, and Oakland, CA. She remains an active teacher of elementary school science as part of her research and professional learning.
Educational Background
Ph.D., Cognition and Development (Education in Math, Science, and Technology), University of California, Berkeley, 2005.

MA, Education Policy and Administration, Stanford University, 1997

BA, Cognitive Science, Johns Hopkins University, 1993.
Selected Publications
Meier, D., and Sisk-Hilton, S., eds. (2020). Nature education with young children: Integrating inquiry and practice 2nd ed. New York: Routledge.

Metz, K. E., Cardace, A., Berson, E., Ly, U., Wong, N., Sisk-Hilton, S., Metz, S. E. & Wilson, M. (2019). Primary Grade Children's Capacity to Understand Microevolution: The Power of Leveraging Their Fruitful Intuitions and Engagement in Scientific Practices. Journal of the Learning Sciences, 1-60.

Sisk-Hilton, S., K.E. Metz, & E. Berson (2018). Jumping into natural selection: Using thought experiments and first hand investigation of crickets to construct explanations of natural selection. Science and Children, 55(6), 29-35.

Sisk-Hilton, S. and Meier, D. (2017). Narrative inquiry in early childhood and elementary school: Learning to teach, teaching well.

Sisk-Hilton, S. (2009). Teaching and Learning In Public: Professional Development Through Shared Inquiry. Teachers College Press, New York, NY.